Flags Unlimited
Flags Unlimited is the oldest and most reliable flag source in Nevada.  Located in Las Vegas Nevada since 1978. Specializing in service to Las Vegas Area, California, Arizona, Utah, all Nevada communities: Carson City, Reno, Sparks, Wells, Virginia City, Fallon, Fernley, Lake Tahoe, Ely, Elko, Winnemucca, Tonopah.
We are longtime suppliers to many State of Nevada departments, National Guard and municipalities. Our specialty is our service to our customers.
Flags Unlimited is a family owned business providing the highest quality flags, flagpoles, logo wearables, and promotional products since 1978. Our office is a home-based location in Las Vegas Nevada. We are a certified Women's Owned Enterprise.
Office Hours
Office hours are Monday through Thursday, 7AM to 12PM Pacific time, or by appointment.
We no longer have a storefront location. Call, text or email us for info or appointment.
Annin Flag Dealer
We are an authorized Annin dealer. Annin & Co. has been making flags since 1847. Highest quality flagpoles and flag products.
Our History
Flags Unlimited was incorporated in Nevada in 1978, by Andy Grayner, an ex-Marine and veteran of the Korean War, and his wife, Mary Lou. For 15 years the business operated a storefront on Sandhill and Desert Inn in Las Vegas. Andy & Mary Lou sold flags and flagpoles to the Las Vegas valley, servicing veteran's organizations, businesses and residents. A natural addition to flag sales was custom advertising banners and advertising products, providing companies any item imaginable with their logo imprinted. The business grew to be Flags & Marketing Unlimited.
1987

In 1987, Flags Unlimited was recognized by the Las Vegas Review Journal for our contributions to various veterans' locations including the flagpoles for the Veterans Cemetery in Boulder City. Below is a clipping from the RJ from Thursday, June 11, 1987.
1988
In 1988, Andy donated a flag pole to the newly built Veteran's Cemetary in Las Vegas, a very emotional day for many people.
1990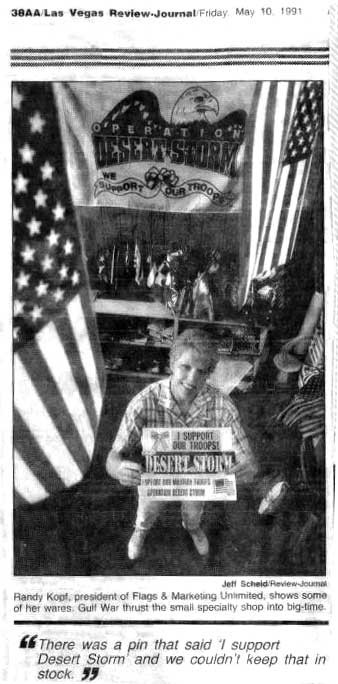 In 1990, Andy and Mary Lou began their process toward retirement by hiring Randy and Mel, their two daughters, to manage the business. The first Gulf War began, thrusting our small business into national recognition for our efforts supporting U.S. troops overseas and in raising patriotic awareness.
1996
In 1995, the storefront on Desert Inn and Sandhill was closed to better service our corporate, government, and non-profit accounts from our home-based office location. Andy and Mary Lou passed away in 1997 and 2001 respectively, but their legacy of customer dedication continues.
Flags Unlimited is still family owned and operated, by Randy and Mel from our home-based office. Since 1978, we provide individual attention to every order, and the highest quality flags, flagpoles, advertising specialties and logo wearables available. Competent and friendly customer service and attention to detail is still the foundation of our family business.